You can fulfill your dream of studying overseas after qualifying for IELTS. It's a widely accepted English language proficiency test when you want to migrate to foreign countries. Therefore, the IELTS score is widely accepted by various companies and institutes globally.
A top-notch IELTS band score is the key to getting admission to your favorite university and availing the world of opportunities. So, are you willing to know how to calculate the IELTS band score and marking criteria?
This blog targets to showcase to you the methods for IELTS score calculation. Let's get started.
How are the IELTS band scores calculated?
0-9 band score is considered the lowest and highest possible score in IELTS. There are 4 sections: listening, writing, reading, and speaking. The entire band score is the average score of all the skills, which are shown in the following table:
| Reading | Listening | Speaking | Writing | Overall |
| --- | --- | --- | --- | --- |
| 7.5 | 8 | 7.5 | 7 | 7.5 |
As elaborated on the IELTS website, the test results are measured to the closest 0.5 or full band score. Therefore, if the final band score isn't 7.5, as mentioned in the above table, your score is thrust to the closest whole score based on which is considered the closest. However, you can check out the examples of how the process of the IELTS band score calculation works:
If you score 6.1, it might go down to 6, which is the closest band score. Therefore, in simple terms, 6.1 is nearest to band 6 compared to 6.5.
In case you achieved 6.85, the end result will be band 7 because 6.85 is closer to 7 than 6.5.
Similarly, when you score 6.25, your score will be raised to 6.5.
It can be seen that the score could round up or down to the closest 0.5, as mentioned above.
IELTS band scoring and marking
Are you wondering what the marking criterion of the ILETS test is? Knowing its marking pattern is also essential to getting the coveted IELTS band score. Therefore, let's learn more about the different sections of the IELTS test and the marking in them.
IELTS Score – Reading Section
The reading task possesses 40 MCQ questions, where you will obtain one mark for every correct answer provided. The table is shown below: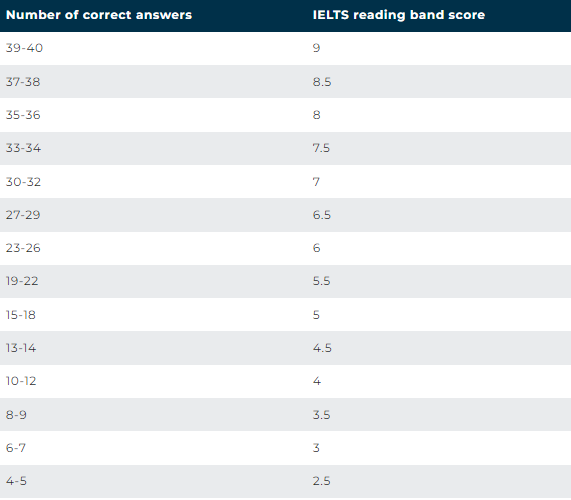 IELTS score – Listening Section
This section also contains 40 questions, and the number of the right answers and similar IELTS listening band scores are shown below: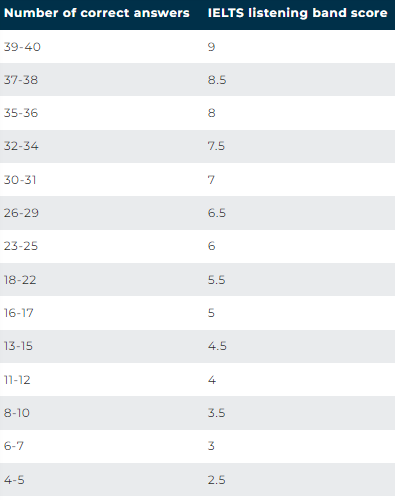 IELTS – Speaking Section
In this section, the IELTS aspirants have to sit in front of a professional examiner, who assesses their speaking skills based on:
Pronunciation
Coherence and fluency
Accuracy & Grammatical range
Lexical Resource
IELTS – Writing Section
This section consists of two tasks and is assessed by veteran examiners. The IELTS writing task score is based on the following factors:
Coherence and cohesion
Task achievement
Accuracy and Grammatical range
Lexical Resource
Conclusion
Your IELTS band score lets you study in your dream college easily. So, go through the process mentioned above, and study hard! Securing a commendable IELTS score is achievable.