DUOLINGO revised the structure of their test, adding and removing certain sections. The DUOLINGO English Test Format changes are listed below for your review.
Removed Listen & Select Question Type
Speaking Sample score is contributed to the overall score.
New Interacting Listening Question Type added.
In this question, There are two Interactive Listening scenarios on the test.
Listen and Respond:
This question type requests that you "Select the best response" or "Pick the best option to start the conversation." You will read a scenario that sets the scene for this task, participate in an interaction, and choose the best responses to the other speaker's turn.
Total Questions: 5-6
Timing: 4 minutes
Subscore Contribution: COMPREHENSION, CONVERSATION
Summarize the Conversation:
This question type asks you to "Summarize the conversation you just had in 75 seconds." In this task, you will write a summary of the Listen and Respond conversation.
Total Question: 1
Timing: 75 seconds
Subscore Contribution: LITERACY, PRODUCTION
Why Gurully is the best site for practicing Duolingo?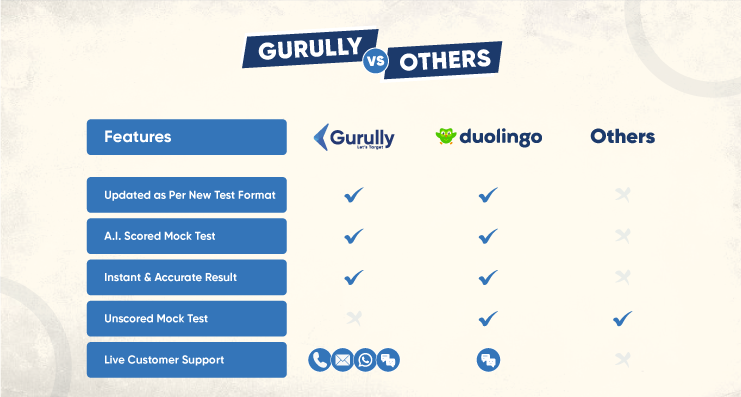 After the OFFICIAL DUOLINGO platform, Gurully is the second platform to change the DUOLINGO English test format to the updated version.
Accurate A.I. scored mock tests available with instant results.
Live Customer Support is available via call, website chat, email, and Whatsapp.
Gurully appreciates and comprehends your desire to pursue a career or study abroad, which is why we make every effort to provide our future rockstars with the best service & quality possible.
Sign up now on Gurully to get an UPDATED A.I. SCORED FREE DUOLINGO MOCK TEST!